Sound Analyser
Full Sound Analysis intergaration. Reading the sound wave and searching for the "dominant frequency" to alter objects within the game.
Simulation
All simulation within the game is controlled by sound, thus making this a very unique experience.
Day / Night cycle
the game reads sound and changes day / night cycles accordingly.
Unique Camera effects
rad Camera effects, Culling, Wireframe and Depth can either be triggerd by Sound or on Key.
Partly procedural
Trigger animations on Key or let the scenes evolve into an unsuspected Nightmare. The end promises something.
The game has an End
13 Unique scenes to explore in a non – linear fashion.
SANDBOXDAYDREAM
The trailer demonstrates a few Cut - scenes out of the game. Some are directly lnked to the first, while others are mire simulations of a dreamlike state.
TEASER
Synopsis.
Sandboxdaydream is an audio visual third person simulator / Sound analyzer, based on analyzing the "dominant frequency" within a sound file. Some instances in the game are procedural while others are purely sound operated. These vast and rather surreal worlds are representing an era that has come to it's end. In this dying era, a rabbit hipster tries to find his way through the chaos. Not quite understanding what is going on and confronted with ambiguity, he rushes through diverse landscapes, encountering utterly weird coincidences and doors that might lead to the FUTURE.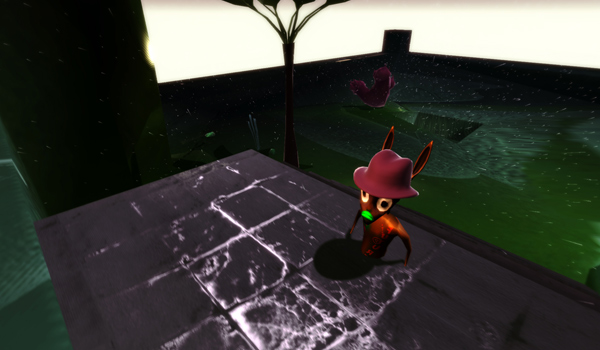 [ SANDBOXDAYDREAM ]
[ SANDBOXDAYDREAM ] is an Interactive Art/Sound Analyses based on the sounds spectrum and the current state of a rabbit. The Game created by Gero Doll (aka), is a complex mixture of chaos and structure accompanied by the Sound scape created by Composter and Sound designer Olivier Girardot. The game is based on a complex algorithm created by the Programmer Jibran Syed which interprets the sound wave on a next-level base, triggering instances which you might not expect. No instance will ever be the same. A Alpha version for PC will be available soon for free download on Itch.io